Three Fingers Steel Mesh Gloves Inleiding
Three Fingers Steel Mesh Gloves zijn handschoenen die zijn ontworpen om de handen van de drager te beschermen tegen snijwonden tijdens het werken met scherpe gereedschappen. Three Fingers Steel Mesh Gloves zijn een soort maliënkolshandschoenen van chainmail en zijn gemaakt van individueel gelaste ringen van roestvrij staal. Ze worden meestal gebruikt in voedseltoepassingen, vleesverwerking en de glas- of leerverwerkende industrie en kledingfabriek. Drie vingers stalen mesh-handschoenen bieden een uitstekende bescherming voor uitbeenbewerkingen, snijbewerkingen met handmessen of gemotoriseerde messen en scharen.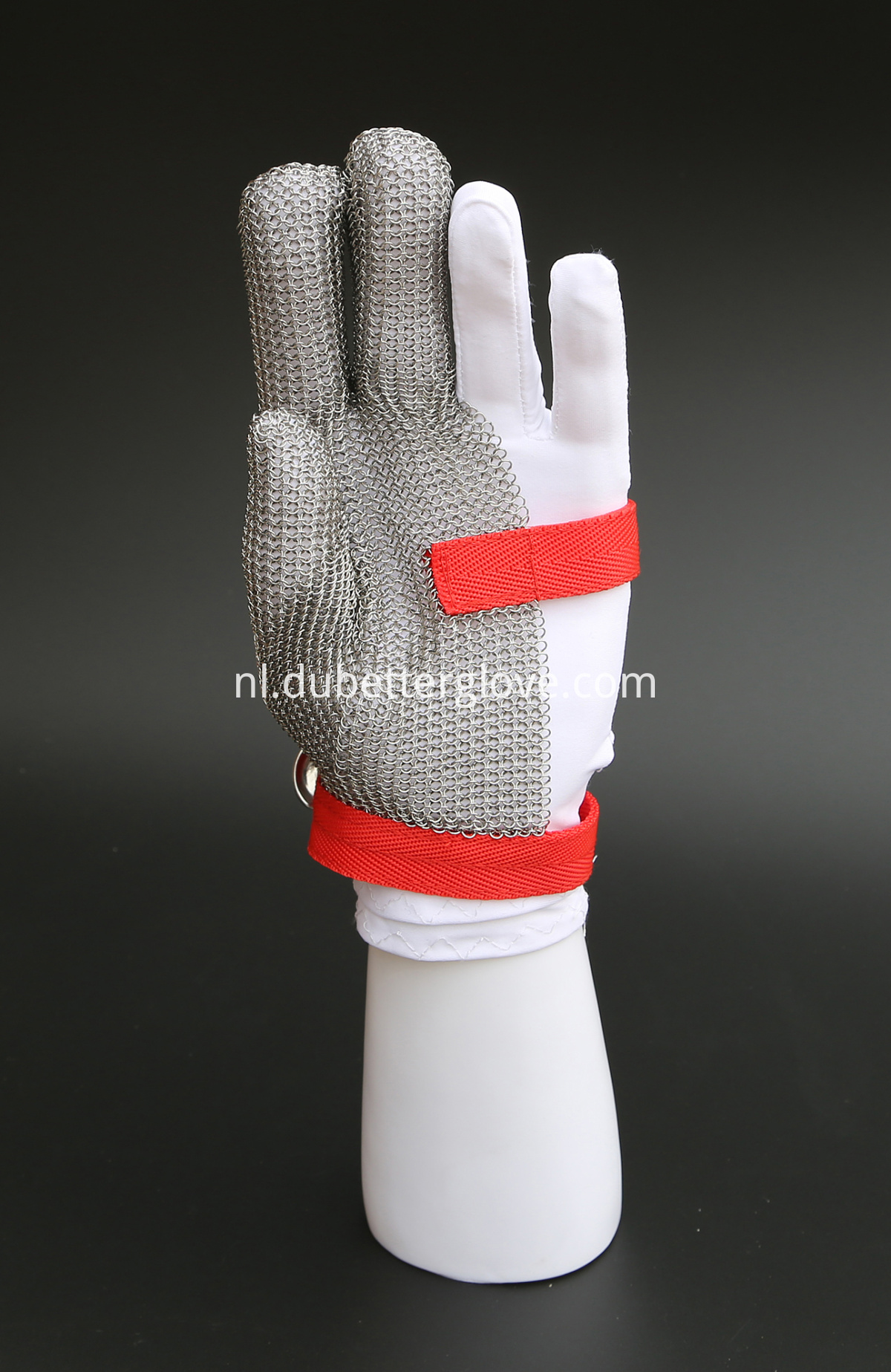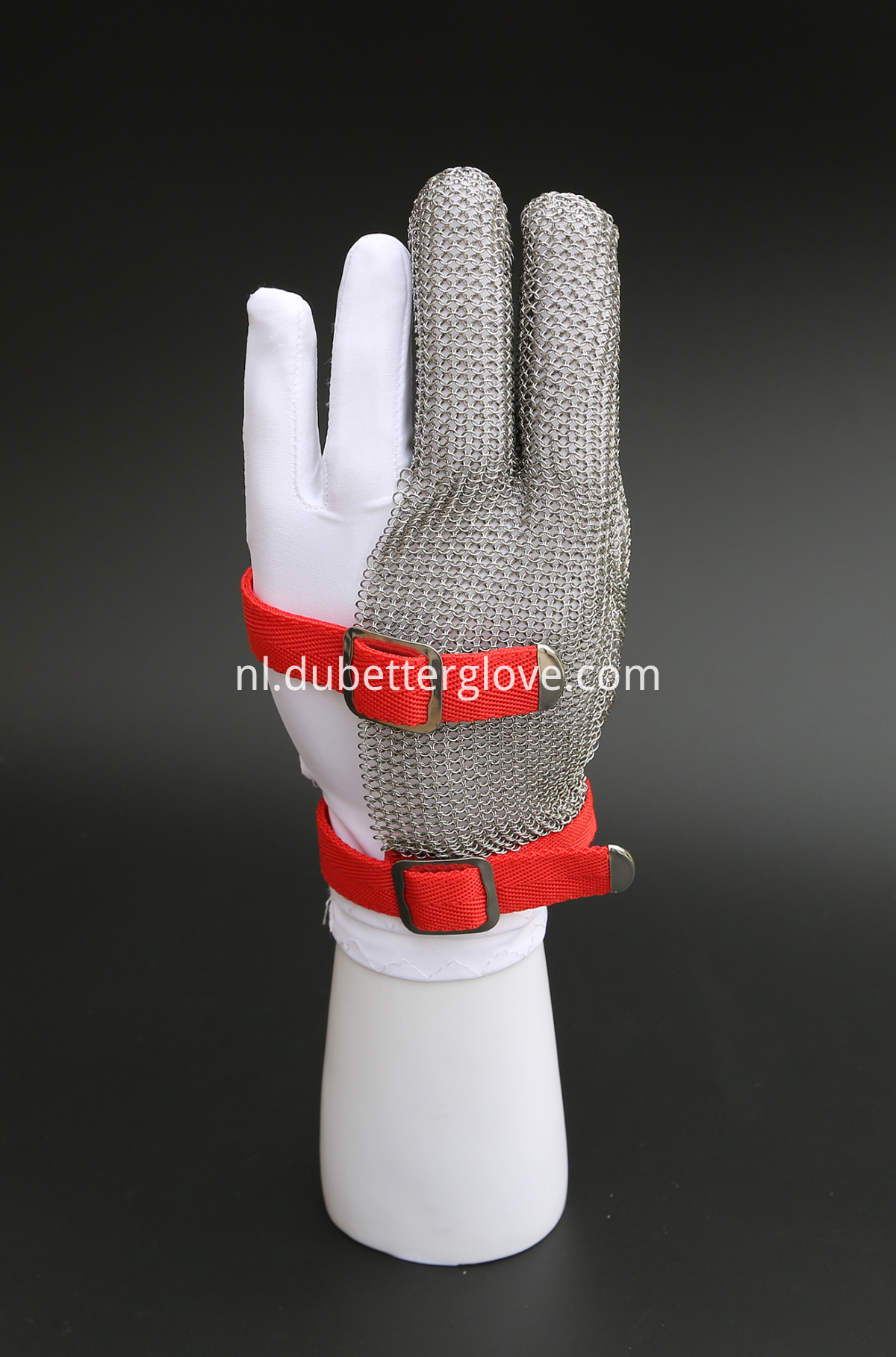 Productnaam: Drie vingers stalen ring mesh handschoenen
Productmaterialen: roestvrij staal 304 L / 316L
Type band: textiel, metalen haak, EVA
Handschoenmaat: XXS, XS, S, M, L, XL, XXL
Draaddiameter: 0,53 mm, Diameter ring: 3,81 mm
Toepassing van handschoenen: wordt gebruikt om vingers en handen te beschermen tijdens het ontbenen van vlees, vleesverwerking, enz.
Grootte van Three Fingers Steel Mesh-handschoenen

Model
Specification

XXS
XS
S
M
L
XL

Textile Strap-Wrist Length

3101

Color
Navy Blue
Green
White
Red
Blue
Orange
Length(mm)
210
225
235
245
255
260
Weight(g)
115
130
135
150
160
175
Op grote schaal toepassingen van Three Fingers Steel Mesh Gloves :
1. Gebruikt voor slachthuizen
2. Gebruikt voor vis en schelpdieren verwerking
3. Pluimveeverwerking
4. Grote schaal openbare kantines
5.Supermarkets
6. Plastic, lederen verwerking
7.Textile
8.Tailing en papierindustrie
9. Houten verwerking
10.Glasverwerking
11. Laboratory containment
12. Veiligheid, politie, openbare veiligheid en andere gebieden
Verpakking van Three Fingers Steel Mesh-handschoenen
Voor Three Fingers Steel Mesh-handschoenen zal normaal 1 stuk handschoen 1 stuk dichterbij komen.
1,1 stuk handschoenen per polybag, dan 10 stks in grotere polyzak, en dan 50 stuks per doos.
2,1 stuk handschoenen per polyzak, vervolgens 1 zak per binnendoos en vervolgens 50 binnendozen per doos.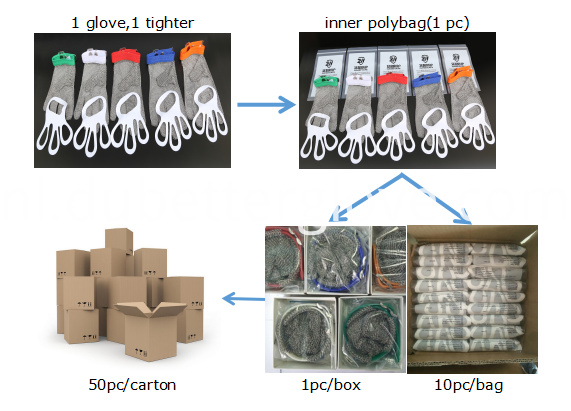 Bedrijfsintroductie
Sino (Beijing) Technology Co, Ltd is een high-tech innovatieve onderneming integratie van onderzoek en productie, verkoop, internationale handel en after-sales service.Onze belangrijkste producten zijn roestvrij staal mesh anti-cut handschoen, roestvrij staal mesh snijwerende schort, roestvrij staal maliënkolder scrubber, roestvrij staal decoratie gordijn, enz., onze ring mesh producten worden op grote schaal toegepast op het slachthuis, vleesverwerkende fabriek, aquatische producten verwerking, kledingstuk snijden fabriek, snijgereedschap fabriek, glasfabriek, groot restaurant, hotels en keten supermarkt, tentoonstellingshal en andere hoogwaardige plaatsen.
Sino heeft een compleet en wetenschappelijk systeem voor kwaliteitsborging, altijd in lijn met de "integriteit, innovatie, win-win" -filosofie, met zijn uitstekende professionele technologie, van hoge kwaliteit managementniveau, om klanten te voorzien van hoogwaardige producten en diensten.
Met krachtige technische kracht, uitstekende afwerking, serieuze werkhouding en perfecte after-sales service is Sino wereldwijd bekend. De producten werden niet alleen in de rest van China gedistribueerd, maar ook naar de meeste andere landen geëxporteerd.
Product Categorie : Ring Mesh Handschoen > Three Finger Ring Mesh Glove