Lange manchet slagershandschoenen
zijn echte 100% 316 L roestvast stalen industriële kwaliteits-kettinggaas-handschoenen.
Voldoet aan de Europese norm 1082-1: 1997 voor kettingposthandschoenen en armwachten,
die uw handen en armen ideaal kunnen beschermen wanneer u in de keuken aan het snijden bent of een tuinwerk doet of waar procesvlees, glas enzovoort. De ademende en lichte
Long Cuff Butcher Steel-handschoenen
passen perfect bij uw handen, zodat u uw taken veiliger en sneller kunt voltooien. Het is wasbaar in water en de kwaliteit zal niet worden beïnvloed na te zijn gewassen.
Long Cuff Butcher Steel-handschoenen
werden veel gebruikt in vleesverwerking, voedselverwerking, glasverwerking, knutselen, dierenlabo, beveiliging, keukensnijden en ga zo maar door.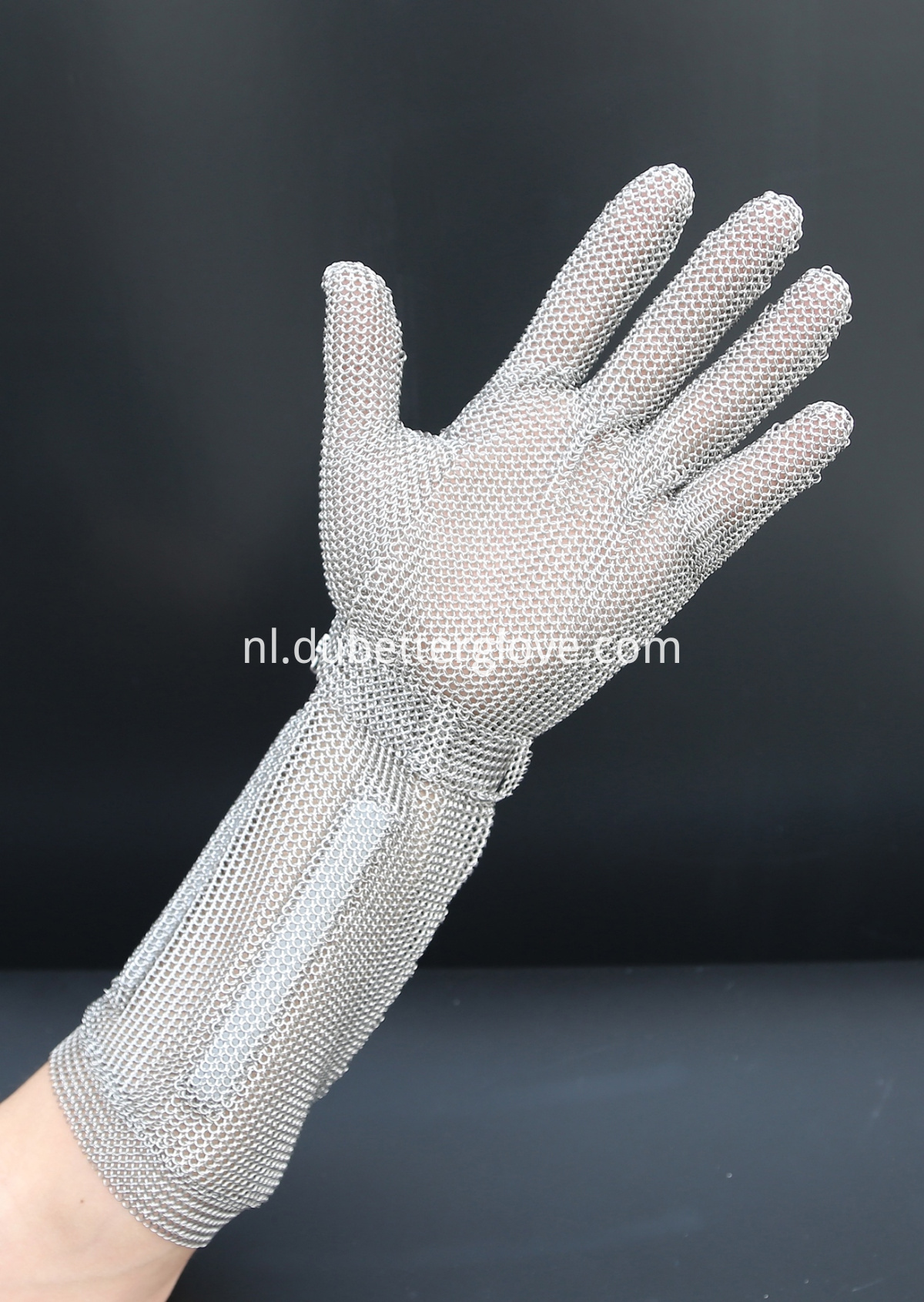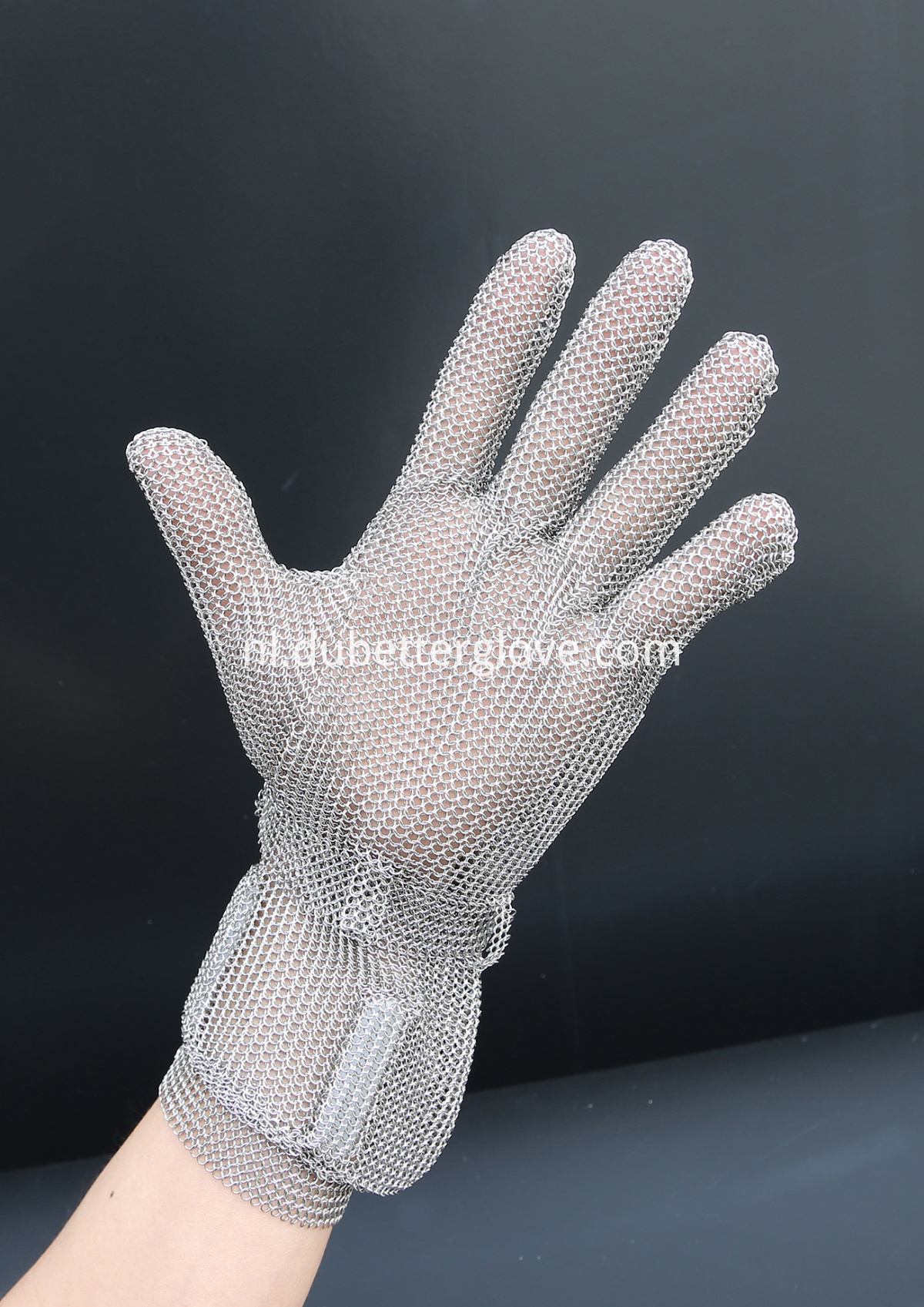 Productnaam: Long Cuff Butcher Steel Gloves
Productmaterialen: roestvrij staal 316L

Type band: metalen haak

Handschoenmaat: XXS, XS, S, M, L, XL, XXL

Draaddiameter: 0,53 mm, Diameter ring: 3,81 mm Lengte manchet: 8 cm

Toepassing: gebruikt om vingers en handen te beschermen tijdens het ontbenen van vlees, vleesverwerking, enz.

De grootte van Lange manchet slagershandschoenen
| | | | | | | |
| --- | --- | --- | --- | --- | --- | --- |
| Model: Wrist Length-Metal Hook strap | XXS | XS | S | M | L | XL |
| Length(mm) | 230 | 235 | 240 | 245 | 255 | 260 |
| Width(mm) | 105 | 110 | 115 | 130 | 135 | 145 |
Als de juiste maat hier niet te vinden is, neem dan vrijblijvend contact op met onze verkoopafdeling, we kunnen ook de handschoenen ontwerpen en produceren als uw speciale behoefte.
Veel toepassingen van Long Cuff Butcher Steel Gloves :
Slagerijhandschoenen zijn een vorm van maliënkolder en zijn gemaakt van roestvrij stalen ringen. Deze slagershandschoenen van staal zijn ontworpen om de handen en arm van de drager tegen snijwonden te beschermen tijdens het werken met scherpe gereedschappen.

Ze worden meestal gebruikt in toepassingen voor voedsel, vlees, glas en leerverwerking.
Verpakking van lange manchet slagershandschoenen
Voor roestvrijstalen maliënkolder-slaghandschoenen, zal normaal gesproken een stuk handschoen 1 stuk dichterbij komen.
1,1 stuk handschoenen per poly-zak, dan 10 stks in grotere poly-tas, en dan 50 stuks per doos.
2,1 stuk handschoenen per polybag, vervolgens 1 zak per binnendoos en vervolgens 50 binnendozen per doos.

Bedrijfsintroductie