Het gebruik van scherpe messen is een groot risico voor u, dat uw hand onmiddellijk kan beschadigen, dus u moet roestvrijstalen vleesverwerkingshandschoenen gebruiken voor snijbescherming. Deze roestvrijstalen vleesverwerkingshandschoenen zijn een uitstekend product met een hoge kwaliteit. Ze hebben veel cruciale voordelen. Misschien heb je hechtingen nodig als je deze handschoenen niet hebt. Je snijdt jezelf ook niet zo goed. Er zijn veel maten waarmee je de juiste maat kunt kiezen en bij je past. U hoeft zich geen zorgen meer te maken nadat u deze roestvrijstalen vleesverwerkingshandschoenen voor een betaalbare prijs heeft gekocht .
Roestvrij stalen vleesverwerkende handschoenen biedt het hoogste niveau van snijbescherming. Deze handschoenen zijn gemaakt van 100% corrosiebestendig staal of metalen ringen die afzonderlijk zijn gelast voor sterkte, duurzaamheid en flexibiliteit. RVS vleesverwerkingshandschoenen weerstaan ​​bacteriegroei en kunnen gemakkelijk worden schoongemaakt of schoongemaakt met heet water en zeep. Vanwege de roestvrijstalen vleesverwerkingshandschoenen handschoen zeer gemakkelijk te reinigen en corrosiebestendig, meestal gebruikt voor de verwerking van vis, zoals natte industrieën.
Details van de RVS vleesverwerkingshandschoenen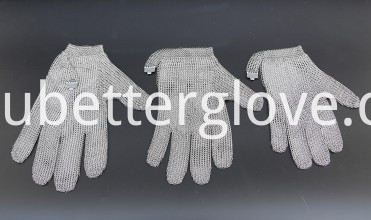 Grootte: XXS, XS, S, M, L, XL, XXL
Riem: metalen haak / metalen klauw
Model: vijf vingers - polslengte
Materialen: Roestvrij staal 316 L
Merk: Dubetter
Garantie: 180 dagen na ontvangst van de goederen bij goed en normaal gebruik.
Reparatieservice: beschikbaar
Grootte van de RVS vleesverwerkingshandschoenen

Met het doel dat verschillende consumenten onze handschoenen kunnen dragen, hebben we als volgt ontworpen en geproduceerd met zes verschillende maten:
Model
Specification
XXS
XS
S
M
L
XL
Metal Hook-5201

Palm Length (mm)
215
230
240
250
260
265
Palm Width (mm)
105
110
120

125
130
135
Weight (gram /piece)
145
165
175
200
210
235
Als u de schrijfgrootte voor uw handen niet kunt vinden, neem dan vrijblijvend contact met ons op, we kunnen ook de handschoenen produceren als uw echte behoefte.
Verpakking van de roestvrijstalen vleesverwerkende handschoenen
Normale verpakkingsmanier: elke handschoen per PE-zak met één vrije handschoen strakker, dan in karton

Speciale verpakkingsmanier: elke handschoen per PE-zak met een vrije handschoen strakker dan in de buitenverpakking en vervolgens in de doos
Bedrijfsintroductie
Sino (Beijing) Technology Co, Ltd is een high-tech innovatieve onderneming integratie van onderzoek en productie, verkoop, internationale handel en after-sales service.Onze belangrijkste producten zijn roestvrij staal mesh anti-cut handschoen, roestvrij staal mesh snijwerende schort, roestvrij staal maliënkolder scrubber, roestvrij staal decoratie gordijn, enz., onze ring mesh producten worden op grote schaal toegepast op het slachthuis, vleesverwerkende fabriek, aquatische producten verwerking, kledingstuk snijden fabriek, snijgereedschap fabriek, glasfabriek, groot restaurant, hotels en keten supermarkt, tentoonstellingshal en andere hoogwaardige plaatsen.
Sino heeft een compleet en wetenschappelijk systeem voor kwaliteitsborging, altijd in lijn met de "integriteit, innovatie, win-win" -filosofie, met zijn uitstekende professionele technologie, van hoge kwaliteit managementniveau, om klanten te voorzien van hoogwaardige producten en diensten.
Met krachtige technische kracht, uitstekende afwerking, serieuze werkhouding en perfecte after-sales service is Sino wereldwijd bekend. De producten werden niet alleen in de rest van China gedistribueerd, maar ook naar de meeste andere landen geëxporteerd.


Product Categorie : Ring Mesh Handschoen > Five Finger Ring Mesh Glove